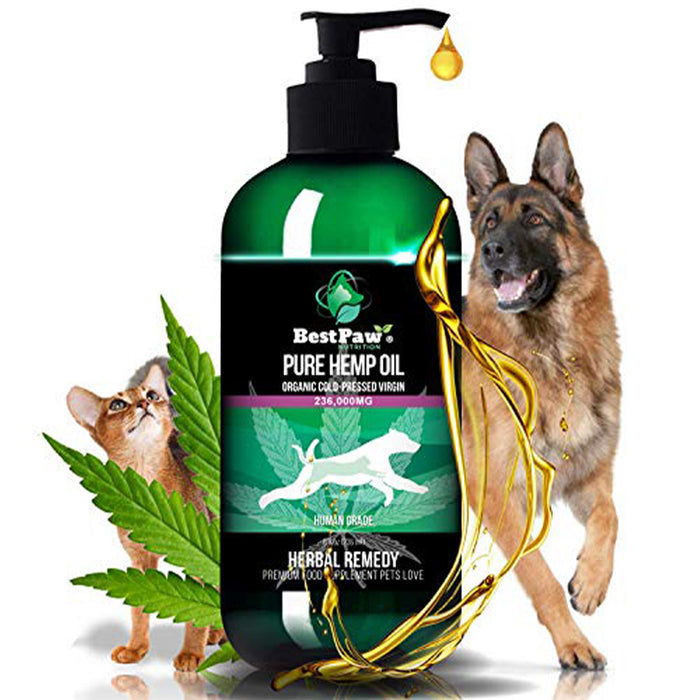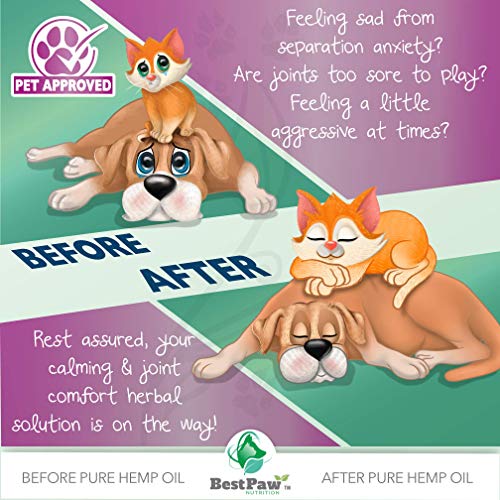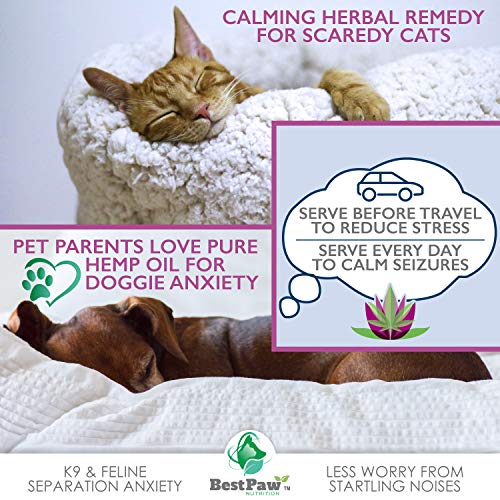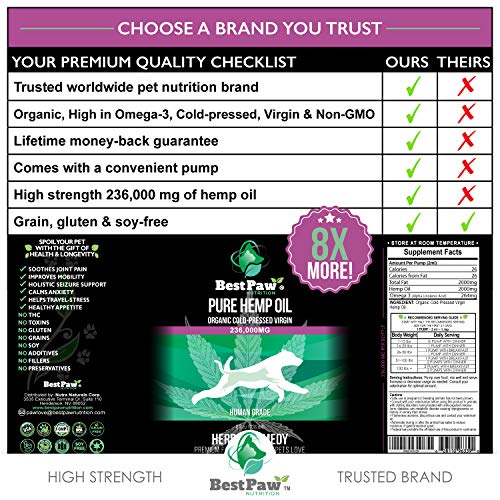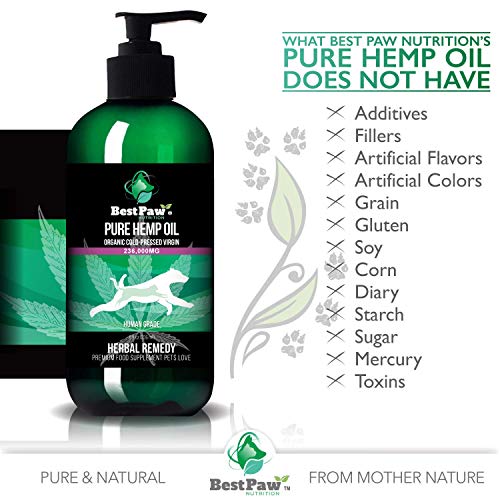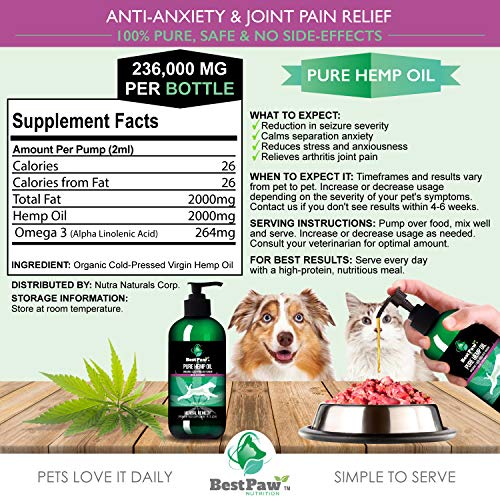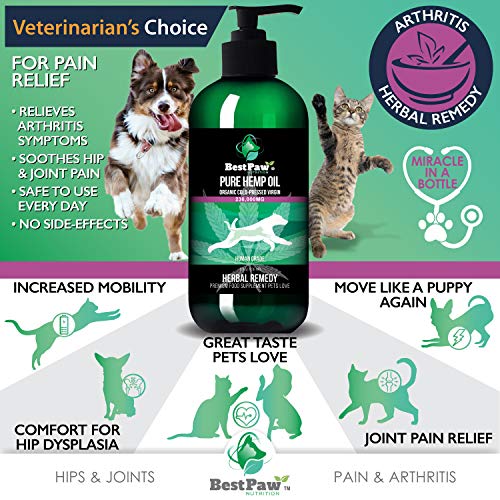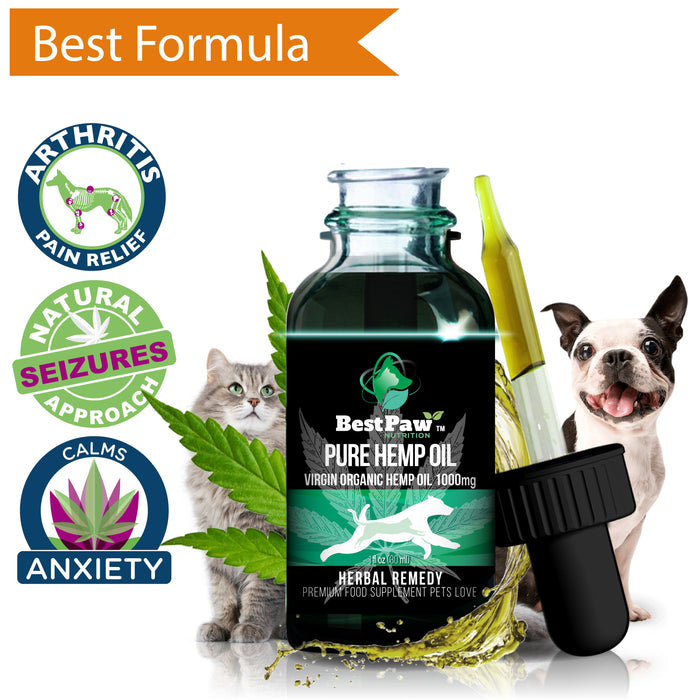 Pure Cold-Pressed Organic Virgin Hemp Oil
WHY THOUSANDS OF PET PARENTS CHOOSE PURE HEMP OIL BY BEST PAW NUTRITION EVERY DAY
EASY TO USE & PETS LOVE IT
You'll love how easy it is to use! Drop the oil from the dropper, mix with your pet's food and serve. It has a mild, earthy taste even the pickiest of eaters enjoy. Your pet will gobble it up! This formula comes in a high-quality petite glass bottle. Plus, a cap that is BPA free, making it safe for all pets and super easy to use. Easier to serve than dog calming spray and more effective than calming treats for dogs.
ORGANIC, COLD-PRESSED, VIRGIN
Harvested from the finest crops in the world in Canada. The oil is gently extracted from the plant material. Then purified leaving an unadulterated organic, virgin hemp oil. The oil is not altered in any way to change flavor, consistency, shelf-life, or smell. It contains no THC or CBD oil. This is the purest organic virgin hemp oil that nature can provide.
HIGHLY RECOMMENDED BY VETERINARIANS
Vets are raving about hemp oil for canines and felines. The fact that it's safe, natural and has no side-effect makes it a veterinarian's choice. Pure hemp oil is a nutritional supplement. It works by feeding the body nutritional resources, which lack in commercial diets. Vets recommend Pure Hemp Oil to reduce medications such as Aspirin, Rimadyl, Tramadol, Valium, relaxants, and sedatives. For prolonged benefits, it's safe and optimal for long term use, without side-effects.

WHAT PURE HEMP OIL CAN AND CAN'T DO FOR SEPARATION ANXIETY & FEAR
Hemp oil won't stop the love and devotion your pet has for you. It won't cure your pet from missing you. What it can do, is provide natural anxiety and stress relief. Use as a herbal relaxer for anxious pets scared of thunderstorms or loud noises. For scaredy-cats afraid of car rides, Pure Hemp Oil can ease motion sickness or fear of travel. It helps calm aggression or behavior issues. Our rescue remedy for rescues, so you can bring your cherished rescue back to life. Pet parents' top choice for dog or cat calming products.
WHAT PURE HEMP OIL CAN AND CAN'T DO FOR ARTHRITIS & HIP DISPLAYSIA
Hemp oil won't treat or cure your pet's arthritis. Arthritis is not curable. What it can do, is lower the inflammation in your pet's joints. This cat and dog joint supplement can decrease hip and joint pain. Providing fewer aches and pains and more comfortable mobility. Senior dogs and cats can feel like puppies and kittens. Climbing stairs, jumping onto the couch or your lap can be possible again. The ultimate joint support for pets who suffer severe dog joint pain. For severe arthritis, hip dysplasia or joint pain. Combine with Dog & Cat Dream Glucosamine.
WHAT PURE HEMP OIL CAN AND CAN'T DO FOR SEIZURES
Hemp oil won't treat or cure your pet's seizures. Seizures are not curable. What it can do, is help control the severity, duration and how often seizures occur. It's used as a herbal seizure medicine for dogs and cats. Most pet parents are choosing our dog seizure supplement to reduce prescription medications. To help control seizures, serve with a clean, high-protein, high-fat diet. For optimal results combine with our Pure Omega Fish Oil. You'll be adding extra healthy Omega fatty acids your pet requires for brain power and focus.