Natural healing and holistic nutrition for the pet you love. 
Blood Monitoring on a Ketogenic Diet

Is it needed?
For starters, Ketogenic Diet? For dogs and cats?
Yep! You read that right. If you are new to what the Ketogenic diet is, I will summarize it for you quickly here. The body can run on two different kinds of energy; Glucose, which is blood sugar and Ketones, which is the energy molecule from fat. The body can use these for energy, but when both energy forms are given through the diet, the body has to prioritize which gets dealt with first, which is always glucose.

When the body has sugar molecules to handle, it needs to secrete insulin to handle the sugar load. Insulin is an extremely inflammatory molecule as it forces glucose to be stored in adipose tissue(aka fat cells which adipose is actually an organ!) and holds onto it as body fat. When the body has a constant intake of either simple sugar or complex sugars, it has to deal with the glucose load first. No matter what.

When the body consumes fats, it gets digested a bit differently and doesn't have an effect on insulin at all. This allows the body to manage and maintain a stable constant level of blood glucose for the few body processes that need blood sugar while the rest of the body runs on ketones.  

A common misunderstanding is that the body can only get blood sugar from dietary sources, which is untrue. The body has a process called Gluconeogenesis, which is done in the liver to create new blood glucose molecules. In fact, the body uses a specific molecule called Glycogen and not glucose coming from dietary sources directly.

Glycogen is made with a few ingredients;
 -Amino acids from protein from the diet or if dietary protein is insufficiently available the body will use its own muscle,
 -Glycerol which is part of a triglyceride molecule from either dietary fat or body fat
-Both Pyruvate and Lactate molecules created by the breakdown of glucose during energy metabolism that can be joined back together to re-create glucose. In short, it's always recycled in the body.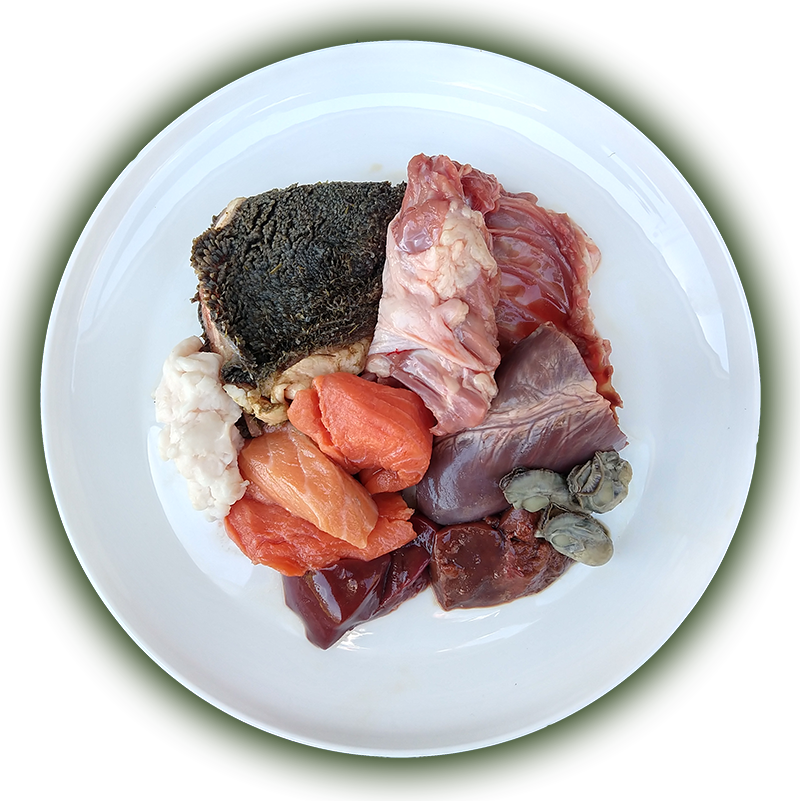 So what is this about blood monitoring? Do I have to?
Right! So short answer is no, but with a big asterisk. Be sure your pet is on a ketogenic diet for any sort of disease management reasons with your vet. You should be monitoring blood sugar and blood ketones to share with your veterinarian for your pet's disease management. However, for those using the diet just to try and feed a more species-appropriate food, it is not required. Checking the blood doesn't put the body into ketosis(which again is the state of which the body is primarily using ketones as a fuel source and has a stable, healthy blood sugar level.) It just provides feedback to know if your pet's body is in nutritional ketosis or still relying primarily on glucose as fuel.

For specific needs, there are different levels of the keto diet for pets, mostly the manipulation of the Protein+Carb amount and the Fat amount to make the ratio be 2:1 with double the kcal amount of the protein plus carbohydrate amount. For some pets, they need zero carbohydrates in their diet. Below is a table showing the 3 levels of a ketogenic diet based on the calculations of KetoPet Sanctuary. They are the leading authority on Ketogenic diets for disease management and a healthy lifestyle for pets.
Option one is where all pets should start, and the only level for healthy pets for regular feeding. For pets with cancer and mild seizures, KetoPet Sanctuary recommends option 2 after 2 weeks on Option 1. For pets who are not getting total control for seizures on option two, they recommend going to option 3 until the needs of the pet are met. Please seek their guidance along with that of your veterinarian if you need to use the ketogenic diet for disease control, we cannot replace the experts!
For those who do need to check their pet's blood. KetoPet Sanctuary recommends using specifically the Abbott Precision Xtra blood glucose and ketone monitor because it is the most accurate monitor compared to laboratory testing and is very reliable. 

As we mention for pet parents starting a new supplement with us, every pet is an individual! So blood values may be a little different from pet to pet. They specifically aim for the average glucose reading to come out to 75mg/dl or lower with ketones at 0.3mMol or higher.  

Some pets, however my sit around 80mg/dl for blood sugar and 0.2mMol and still be in ketosis depending on how effectively their body is sucking up and using those ketones for energy. Hence, there isn't extra sitting in the bloodstream to be picked up and read by the meter while their blood sugar isn't spiking and all over the place like in the way pets on carb-loaded diets do.


So as a reminder, if your pet is healthy and you are using option 1, there is no need to check the blood levels for sugar or ketones. However, pets who use Options 2 and 3 for disease management should routinely monitor their pet's blood and report their levels with their vet. Meeting the macro ratios of Fat, Protein, and Carbohydrate will put your pet into nutritional ketosis. 

Natural healing and holistic nutrition for the pet you love. 
Join our Best Paw Club for pet nutrition tips, discount codes, and more!